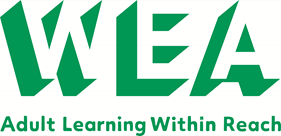 The WEA is the UK's largest voluntary sector provider of adult education in England and Scotland.
Founded in 1903, the Workers' Educational Association (WEA) is a charity dedicated to bringing high-quality, professional education into the heart of communities. With the support of nearly 3,000 volunteers, 2,000 tutors and over 10,000 members, we deliver friendly, accessible and enjoyable courses for adults from all walks of life. Assessed 'Good' by Ofsted in 2014, and again in 2018, we have classes in almost every area of England and Scotland. You do not need any previous knowledge or qualifications to join most of our courses, only a willingness to share with others your curiosity, ideas and experience.
We also have a special mission to raise aspirations and develop educational opportunities for the most disadvantaged. This includes providing basic maths, English and IT skills for employment; courses to improve health and wellbeing; creative programmes to broaden horizons and community engagement activities that encourage active citizenship.
Adult & Community Learning – classes

Classes in: ESOL English
– Entry level to Level 2 including Functional Skills Maths
– Entry level to Level 2 including Functional Skills All classes are delivered from our learning centre in St Pauls.
---
Get in Touch
---
If you would like to find out more about how WEA can assist you, then contact Anita via phone on 07920 501197 or email her at agardner@wea.org.uk.