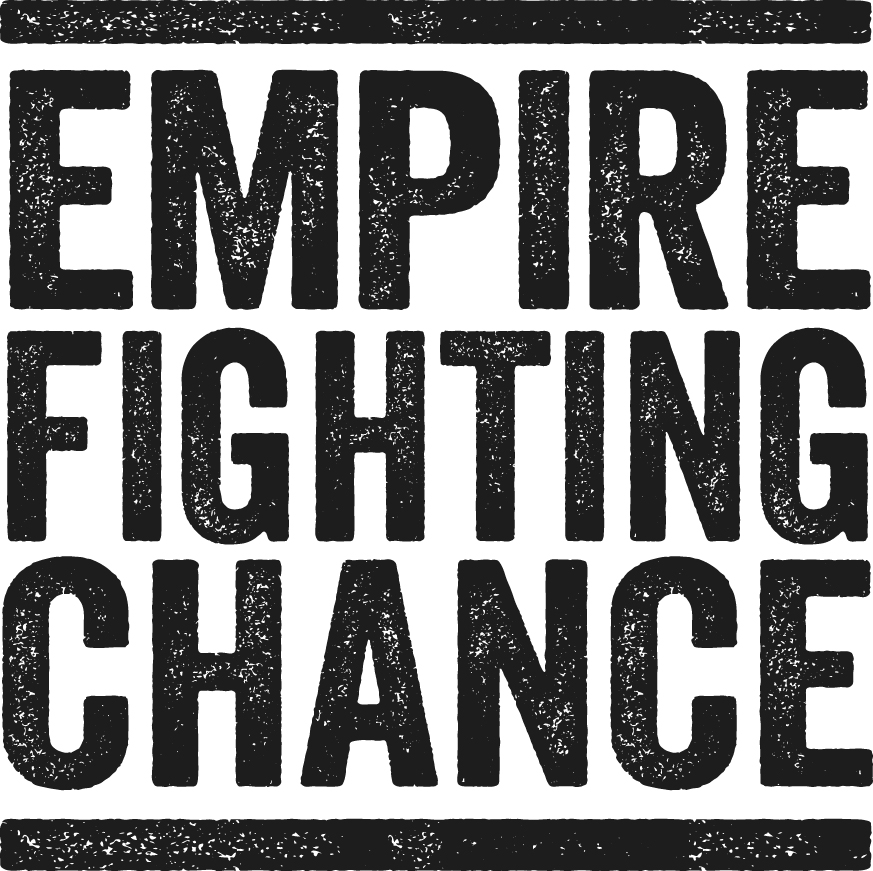 Empire Fighting Chance was born on the streets to fight the impact of deprivation on the lives of young people.  Our powerful combination of non-contact boxing with intensive personal support, challenges young people to realise their unique potential. Evaluations show that we: improve engagement with education; reduce anti-social and criminal behaviour; improve mental & physical health; develop confidence and self-esteem. We offer young people from 8-25 years:
1:1 or small group non-contact boxing and mentoring – our flagship personal development programme builds confidence, motivation and positive relationships, helps manage emotions, whilst developing physical and mental health, supported by one of our dedicated, qualified Boxing Coach/Mentors.
Our Hello Future employability programme supports 16-25 year olds on their journey into training, education, work and a brighter, healthier future.  We take a physically active approach to broaden horizons, ignite curiosity, build aspirations, empower positive decision-making and develop key skills for work.
Mental health support, through 1:1 or small group counselling and mental health sessions with a qualified therapist, based at the gym.
Education support, offering functional skills, homework and revision groups, and opportunities to gain informal qualifications.
Services
We offer two services to the West of England partners: Non-Contact Boxing and Mentoring, as well as Hello Future.
Non-Contact Boxing & Mentoring
Our unique Non-contact Boxing & Mentoring programme has been developed with a sports psychologist, to support young people's personal development and promote good mental and physical health. This flexible programme is tailored to meet the specific needs of each young person, and based on the positive relationship they build with a qualified Boxing Coach/Mentor, who weaves key personal development messages and support into the sessions.
Participants are challenged through circuit-type activities such as speedball workouts, skipping, pad-work, dodgeball and shadow boxing. Building on their progress each session develops motivation, confidence, self-esteem and resilience.
(Our Coaches are qualified ABA Boxing Tutors and accredited to England Boxing, the National Governing Body) .
COST: £50/hour or £70/2 consecutive hours
---
Hello Future
Our Employability and Boxing programme offers a different approach to supporting young people into work. By improving physical & mental health, through integrating non-contact boxing into employability workshops, young people become more open to opportunities, able to challenge themselves, and better equipped to make those crucial next-step decisions to thrive in life. We broaden horizons and raise aspirations through inspiring work experiences with our network of employers, offer Skills Challenges to develop key skills for work including problem solving, teamwork, CV writing and interview preparation, as well as 1:1 careers support. Organisations can either refer young people directly.
COST: £50 /2 hour session, or we can work in partnership with you to create and deliver bespoke sessions to include in your employability programme
Get in Touch
---
If you would like to find out more about how Empire Fighting Chance can assist you, then contact Sharon Edwards via phone on 0117 949 6699 or email her at Sharon@empirefightingchance.org.